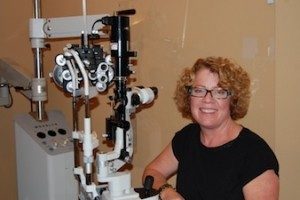 At Desert Valley Eye Care, we are pleased to offer a wide range of optometry services for our community! Our experienced optometrists can provide you with thorough eye evaluations, determine if you need corrective lenses and your exact prescription strength, fit you with the appropriate specialty eyewear, and help you pick out the most flattering pair of glasses for your face shape and skin tone. We ensure that all of our procedures help enable us to keep you seeing well for the rest of your life.
Our new patient appointments always begin with a comprehensive eye exam. If you are unsure of your family's eye health history, it's helpful to research beforehand, so we can better evaluate your own eye health. Visit our online patient center to download supplemental forms you can fill out before your appointment. If you have never had a comprehensive exam, don't worry! All the tests and exercises are simple and painless.
Vision vs. Medical Insurance
We often have patients that have both vision and medical insurance. They are very different in terms of the services they cover and it's important for our patients to understand those differences. Vision coverage is mainly designed to determine a prescription for glasses, help pay for eyeglasses or contact lenses, and to evaluate the health of their eyes. It is not designed or equipped to deal with medical conditions, diagnoses, and/or treatment plans.
When a medical diagnosis or condition is present (such as high blood pressure, diabetes, or an eye disease such as infections, dry eyes, allergy, and cataracts, to name just a few) it is necessary to file the claim for your visit with your major medical carrier and the co-pays for that insurance will apply as well as any non-covered service. Vision insurance does not cover medical eye problems, just as medical insurance does not cover routine vision problems. Our office does not make these rules; they are defined by the insurance carriers themselves.
There is no way to know prior to the examination which type of insurance will apply or with whom our office will be able to file a claim for you. We make every effort to be a provider on every major carrier for your convenience and we will file those claims for you when there is a medical problem. In the event that we do not take your major medical/vision insurance, we will provide you with an itemized receipt so that you may file with your carrier for reimbursement.
Comprehensive eye exams may include:
Testing visual acuity or refractive error
Pupil evaluation with or without dilation
Examination of peripheral visual field
Color vision testing
Analysis of the visual systems
Examination of the external parts of the eye
Intraocular pressure measurement
Examination of the health of the entire eye
Our experienced optometrists can diagnose and treat eye diseases and identify general eye health problems including diabetes, anemia, high blood pressure, and others. We can also test for and fit specialty eyewear for sports, occupations, other activities and hobbies, and safety glasses.
Our Optometric Services:
Comprehensive Eye Health & Vision Exams
Medical Eye Exams for Diabetes, systemic diseases, allergic eye disease & dry eye syndrome
Diagnose and manage Macular Degeneration and Glaucoma patients
Emergency Eye Exams
24 Hour Emergency Care
Optical
Pediatric Eye Care
Co-Manage Cataract & LASIK Procedures
Contact lens fitting
Vision Therapy
Orthokeratology
We can answer your questions about optometry services, our eye care practice, eye health products, and more.
Schedule your eye exam today by requesting an appointment online, or by calling our office.
Contact us today or visit our appointment request page to find a time that is convenient for you to see us.
Contact Us
Appointments